Welcome message from the General Editor:
It gives me great pleasure to welcome you to the new website of Journal of Linguistic Association of Nigeria (JOLAN). This electronic medium will provide wider global access to JOLAN and facilitate speedy submission, publication and dissemination of research output in JOLAN. I wish to thank the President of Linguistic Association of Nigeria (LAN), Professor Imelda Udoh who has worked assiduously over the past few months to put this site in place. I appreciate all past General Editors of JOLAN for their incredible work to sustain JOLAN to ensure its credibility as the pioneer and leading journal of linguistics in the African continent. They have always acted with academic integrity, and exuded excellence and hard work. I recognise the limitations and challenges of my new role as the General Editor of JOLAN, and have embraced them with excitement and commitment to excellence.
JOLAN will continue to publish high quality articles in all areas of language and linguistics research, and take maximum advantage of contemporary issues and debates as they evolve in our rapidly changing world. We have strengthened the peer review mechanism to establish validity for research based on the expert knowledge of other scholars. This will also enable us to provide valuable feedback to enable contributors revise and improve the quality of their articles. Let me also appreciate all our prospective authors/contributors for choosing JOLAN as a worthy outlet to report their research findings. However, given our resolve and commitment to excellence and quality, and in a bid to relaunch JOLAN as a global destination and brand, only highly rated articles will be accepted for publication. We in the editorial team will work collectively at ensuring the timely publication of JOLAN.
We'll be glad to receive your interesting articles.
Eyo Mensah
Department of Linguistics
University of Calabar
(General Editor)
Vol. 25 (2022): Journal of Linguistic Association of Nigeria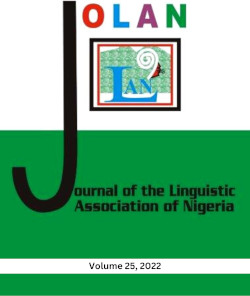 JOLAN is a peer-reviewed multidisciplinary academic journal, published by the Linguistic Association of Nigeria (LAN). It publishes serious, well-researched, and original papers or reports in linguistics, languages, literature, culture, information, and technology and communication studies. It was established in 1982 as the professional journal of the Linguistic Association of Nigeria. JOLAN is published every year, and occasional supplements are published as the needs arise. Some earlier editions are available online for free download @ www.academix.ng. Current editions are available online @
www.jolan.com.ng. Manuscripts are received all year round for consideration. Manuscripts and all correspondence should be sent to:
The Editor, JOLAN
eyomensah@gmail.com
Published: 2023-01-22
View All Issues